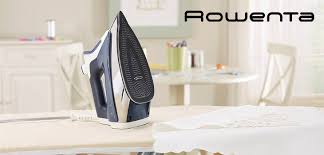 We are proud to announce we are now ROWENTA & T-FAL Dealers!
Listed below are the steam irons we currently stock:
ROWENTA
Eco Intelligent Iron
The Eco Intelligence steam iron provides you with 100% efficiency while saving 25% energy. This is achieved through the combination of the 3D soleplate and the new eco steam system. New patented soleplate with a unique 3D design helps concentrate steam below the soleplate to reduce steam loss while increasing steam efficiency. The eco steam system delivers an optimal steam output to iron fabrics sufficiently while conserving energy. The microsteam400 3De soleplate offers more than 400 holes for perfect steam distribution.
Steam Force
The slick soleplate guarantees an optimum glide in all directions, while an integrated anti-scale valve ensures a consistent flow of steam for better performance and longer life. Choose from a 210g/min burst of steam or a variable steam at 0.35g/min to tackle any ironing task with ease, and finish your garment off with the Precision Chrome Tip for easy gliding into pockets, narrow edges, seams and collars.​ Tweet Email
Compact Steam Station
With a compact design and high-quality materials, Compact Steam is the perfect tool for efficient, high-performance ironing. Featuring the patented profiled Microsteam400 stainless steel soleplate, this high-pressure steam generator delivers wrinkle and crease removal at professional standards.
T-FAL
T-FAL Ultraglide
Exclusive Ultraglide soleplate iron with active lines, provides superior glideability Anti-scale system for a constant flow of steam Variable Steam for flexibility when ironing a variety of fabrics Ergonomic Steam Trigger 270ml tank 1600W Power Easy front filling Self-cleaning Auto shut-off
T-FAL Ultraglide Pro
The fastest and easiest glide* Step up your everyday ironing with the Ultraglide Pro. Exclusive easy-glide soleplate means no snagging, ever. It's non-stick and scratch-resistant. Intelligent anti-scale system guarantees constant steam flow, which means better performance and longer product life. Autosteam option adjusts steam intensity based on your fabric. Super wide base increases stability and control. Comfort trigger allows for quick bursts of steam at the push of a button
T-FAL Aquaspeed Autoclean
The finest innovation meets the latest ironing aesthetics for a superior result. It's time to expect exceptional. * Exclusive soleplate design for durability and easy gliding. It autocleans to prevent tiny fibres from sticking and compromising ironing results. * Take the effort out of ironing: autosteam function matches steam with heat perfectly, for fast and fabulous results every time. * Not one but two layers of anti-scale technology prevent build-up, allowing longer product life and better performance. * Brilliant power trigger for a quick burst of steam.